Posts for: October, 2014
By Mountain Brook Smiles
October 20, 2014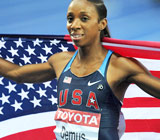 Lashinda Demus holds the U.S record in the 400 meter hurdles, with a time of 52.47 seconds, the third fastest ever recorded. While her twin 5-year-old boys cheered her on, she brought home a silver medal from the 2012 London Olympics. But when it comes to her full set of upper and lower braces, there's no silver to be seen!
Demus is a top-ranked competitor, a wife and a mom — and an adult who is currently in orthodontic treatment. With her orthodontist's approval, she chose clear ceramic braces. These are just one of the treatment options available to adult patients, many of whom prefer a less noticeable style of orthodontic appliance.
As many as three-quarters of adults are thought to have some form of orthodontic problem. Common issues include teeth that are crowded too closely together, or ones that have drifted too far apart after an extraction or other tooth loss. It is believed that straightened teeth are easier to clean and better for chewing — they can also improve an adult's social life, and even his or her career prospects!
Some grown-ups may hesitate to consider orthodontic treatment because they remember the "railroad tracks" they saw in junior high school. In fact, there have been many changes in orthodontic appliances in the past few years. Two popular choices for adults are colorless braces (the kind Demus wears) and clear orthodontic aligners.
Colorless ceramic braces are made of high-tech composite materials. They resist staining, and are less noticeable because their translucent appearance blends with the teeth. Often, a single wire is the only part that's plainly visible. Sometimes it's even possible to place them on the lingual (tongue) side of the teeth.
Clear aligners are an alternative to braces that are available to adults and teens. Instead of wires and attachments, these consist of a series of transparent, removable trays that are placed over the teeth and worn 20 hours per day. Over a period of six months to two years, the teeth are gradually straightened as you progress from one computer-designed tray to the next. Best of all, you can remove the trays completely to clean your teeth, and for important occasions.
Which one is right for you? It depends. While aligners have been successful in treating mild to moderate spacing issues, more difficult problems with the bite may require a more traditional form of braces. Also, there are a few health problems which might need to be attended to before orthodontic treatment is begun. The best way to learn about your options is to come in for a consultation. But remember: if you want a better smile, it's never too late.
If you would like more information about orthodontic choices, please contact us or schedule an appointment for a consultation. You can also learn more by reading the Dear Doctor magazine articles "Orthodontics For The Older Adult" and "Clear Orthodontic Aligners."
By Mountain Brook Smiles
October 20, 2014
Did you ever brush your teeth and find that your gums were bleeding slightly? This unwelcome discovery is more common than you might think — and it might have something to tell you about your oral health. Here are five things you should know about bleeding gums.
As much as 90% of the population occasionally experiences bleeding gums. It happens most often while brushing — and it's often a sign of trouble, indicating that your gums are inflamed and/or you aren't brushing or flossing optimally.
Bleeding gums can be an early warning sign of gum disease. In its earliest stages, this malady is called gingivitis, and it's quite common. About 10 to 15 percent of people with gingivitis go on to develop a more serious form of gum disease, called periodontitis. If left untreated, it can lead to gum recession, bone loss, and eventually tooth loss.
A professional exam is the best way to tell if you have gum disease. Your dentist or hygienist may use a small hand-held instrument called a periodontal probe to check the spaces between your teeth and gums. When gum tissue becomes detached from the teeth, and when it bleeds while being probed, gum disease is suspected.
Other symptoms can confirm the presence of gum disease. These include the presence of pus and the formation of deep "pockets" under the gums, where gum tissues have separated from teeth. The pockets may harbor harmful bacteria, and need to be treated before they cause more damage.
Several factors may influence the health of your gums. How effectively you brush and floss has a major impact on the health of your gums. But other factors are important too: For instance, women who are pregnant or taking birth control pills sometimes have bleeding gums due to higher hormone levels. Diabetics and people with compromised immune systems often tend to have worse problems with periodontal disease. Certain drugs, like aspirin and Coumadin, may cause increased bleeding; smoking, by contrast, can mask the presence of gum disease by restricting blood flow.
It's never "normal" to have bleeding gums — so if you notice this problem, be sure to have an examination as soon as you can. If you have questions about bleeding gums or periodontal disease, contact us or schedule a consultation. You can read more in the Dear Doctor magazine article "Assessing Risk For Gum Disease."