Posts for: June, 2014
By Mountain Brook Smiles
June 23, 2014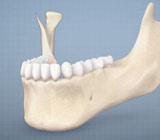 A wise man once said, "No man is an island." Something similar could be said about our teeth — their health and vitality are intricately linked with a person's general health. Missing teeth in particular can set off a chain reaction that leads to bone loss, an issue for both your health and appearance.
Bone is composed of living cells that go through normal cycles of growth and resorption (the dissolving of mineral composition in the bone). In our early years, there's more growth than resorption as our skeletal structure develops; in adulthood the cycle tends to equalize between the two phases. In our later years, the cycle tends more toward resorption.
The action of biting and chewing actually helps keep the cycle on track as the generated forces stimulate bone growth. When teeth are missing, though, the bone no longer receives this stimulation and will resorb at a higher rate. This is especially a concern for people who've suffered a complete loss of their teeth.
This bone loss may in turn trigger a number of related problems. The jaws may no longer close properly, leading to painful stress in the joints. Nutrition suffers as food choices become limited due to the lack of teeth and bite problems. And, a person's appearance may change as well — the bone loss shortens the look of the face and causes the person to appear much older than they are.
Because of these potential problems, we should do everything we can to preserve and prolong natural teeth. But if preservation isn't an option, then some form of restoration should be pursued. Dental implants in particular may actually prevent and even reverse bone loss. Bone has an affinity with titanium (which is what the implant is made from) and will attach and grow around it over time. This not only anchors the implant, it also increases bone mass where it may have been prematurely lost.
Caring for and preserving your natural teeth is one of the best things you can do for the health of your jawbone. If you lose your teeth, though, there are ways to restore them and protect bone health — and your smile — at the same time.
If you would like more information on the effects of tooth loss, please contact us or schedule an appointment for a consultation. You can also learn more about this topic by reading the Dear Doctor magazine article "New Teeth in One Day."
By Mountain Brook Smiles
June 13, 2014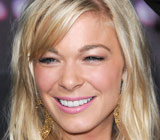 Singer LeAnn Rimes was forced to cancel a string of performances recently, as a more pressing engagement came up: a late-night meeting with her endodontist. It turned out that the country-pop star needed some emergency dental work performed while she was on tour. But her die-hard fans needn't have felt left out — Rimes faithfully tweeted each stage of her dental treatment.
The trouble began before she was scheduled to play a show in Ohio. "Waiting on the endodontist to meet me and do a nighttime root canal," she informed her twitter followers. Instead of performing, Rimes was advised to spend the next few days resting after the emergency treatment. "Happy Friday! I'll be spending mine in bed," she tweeted after the previous evening's procedure. The following Monday, Rimes returned to the dentist's chair for follow-up treatment.
It turned out that the singer had been battling dental pain for months. "I am so disappointed that I can't make it to my fans tonight." Rimes explained in a statement. "I had wanted to give them the show they deserved and only wish this tooth pain held out a little longer."
If there's a moral to this story, it's this: If you have tooth pain, don't wait to see a dentist. Call us right away!
A feeling of constant pain and pressure in your mouth is a clear indication that you may need a root canal. Another telltale symptom is sharp pain when you bite down on food, or lingering pain after eating something hot or cold. Not every symptom is as clear-cut, however — the only way to know for sure whether you need treatment is to come in for an evaluation.
Pain in your teeth or gums may be a symptom of a serious condition. Even if the pain goes away temporarily, an underlying infection generally does not. If a treatment such as root canal therapy is needed, the sooner it is obtained, the better you'll feel. And remember, root canal treatment doesn't cause tooth pain — it relieves it!
If you have any concerns about tooth pain, please contact us or schedule an appointment for a consultation. You can learn more in the Dear Doctor magazine articles "I'd Rather Have a Root Canal" and "Signs and Symptoms of a Future Root Canal."